ASAP 11 Release Highlights
ASAP is now accessible through web browsers giving access to Android tablets, iPads and Macs as well as a number of new browsers for Windows. The table below describes which browsers are supported on each operating system.

| Operating System | Chrome | Microsoft Edge | Internet Explorer | Safari | iOS Safari | Firefox | Opera |
| --- | --- | --- | --- | --- | --- | --- | --- |
| Windows XP | |   |   |   |   | | |
| Windows 7 | |   | IE 10+ |   |   | | |
| Windows 8 | |   | |   |   | | |
| Windows 10 | | | |   |   | | |
| OS-X High Sierra | |   |   | |   | | |
| OS-X Sierra | |   |   | |   | | |
| OS-X El Capitan | |   |   | |   | | |
| OS-X Yosemite | |   |   | |   | | |
| OS-X Mavericks | |   |   | |   | | |
| Android | |   |   |   |   | | |
| iOS | |   |   |   | | | |
Search Bar
The search screen has been removed and replaced by a search bar available on every screen. In addition to simplifying the search process, the search bar gives users the ability to bulk update appointments & display a number of additional columns.
GST Update
All product prices in ASAP are now based on an Ex-GST prices, giving the ability to apply a GST surcharge to certificate invoices. Some prices may appear differently in ASAP as the field has changed i.e (Price inc. GST -> Price Ex. GST), however the internal figure has not changed and hence all presentation and calculation of the prices will remain the same. Additionally, customers now have the option to be recorded as GST registered in ASAP.
Dashboards
A new dashboard feature now displays to all users on login. Users are able to create shareable dashboards with custom widgets that display key metrics from specified schemes.
Notice Boards
Each scheme within ASAP now includes a noticeboard, displaying information specified by system administrators and Dataforce.
Decommissioning
A decommissioning system has been added to ASAP, enabling the ability to track and maintain the decommissioning and recycling of products.
Other
A number of other ASAP features have been added or updated to improve functionality such as:
Other Updates
Styling Changes
Many features have undergone a style change in ASAP 11, the 'Open Programs Menu' now has colours that can be associated with tabs for ease in identifying schemes.
Manual Control Products
The manual control checkbox has been removed from the product management screen in ASAP 11. Manual control products are now determined by whether they are linked to a question. If a product is not linked to a question, it is automatically marked as manual control which now hides the Quantity and Question tabs.
Question Block Extra Details
The new data provider, 'Question Block Extra Details' is now available in all forms. This data provider will display in the form designer as the Block Name + [Extra Details] and contains basic product details, product attributes and question answers for each block in an appointment.
Logo Cropping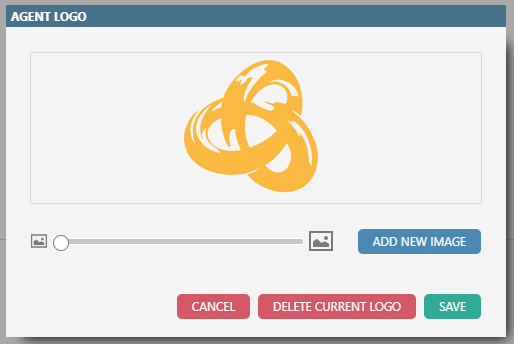 Both Field Worker and Agent screens in ASAP now include an image cropping tool when uploading logos.
Job Calculations

The calculations tab now displays Quote calculations even after installation calculations are available. To switch between Quote and Invoice calculations use the drop down list at the top left of the calculations tab.
Improved Product Questions and Zones

Manual control products no longer display the 'Product Question' or 'Quantity Question' tabs. Similarly, the 'Calculations' tab is not shown for products with no zone types linked. When the 'Quantity Question' tab is displayed products now only display relevant quantity questions, rather than all available.
Job Clone Action

The job actions tab now contains a new option, 'Clone Job'. Clone job creates an new job with the same customer details but does not copy the job's appointments or any their information.
Job Product Management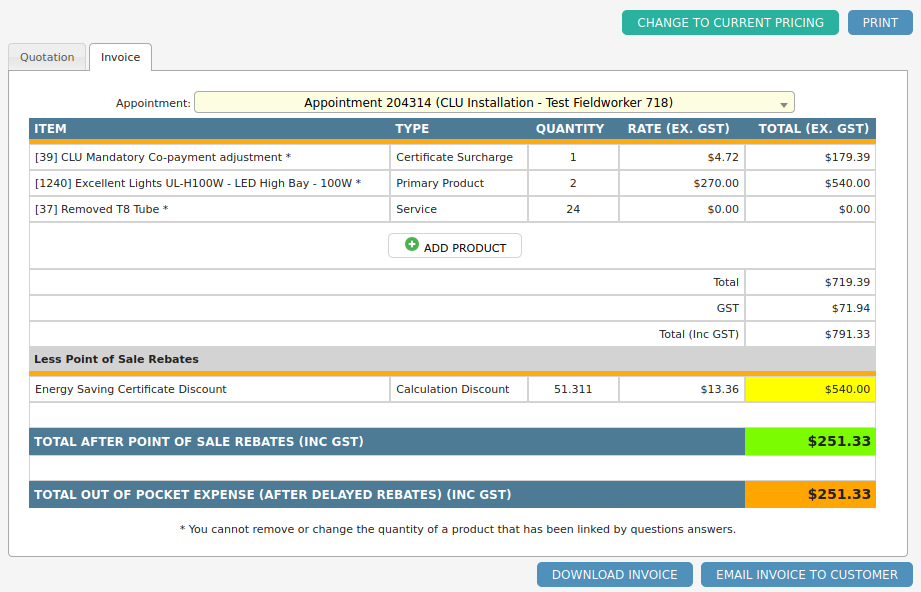 Both the Job and Appointment product screens have been replaced by one common Quote/Invoice tab on the job. This tab allows users to view, add or remove products from the Quote or Invoice by switching with with the options at the top.
Suburb Management
Both the Agent and Fieldworker Suburb screens have new interfaces. Users can filter suburbs by column and add or remove suburbs by clicking on each row or using the 'Select All Visible Suburbs' button.
Admin Logging

All admin changes made through ASAP are now recorded, the record includes:
The date / time the change the was made
The user that made the change
The configuration that was changed
In some circumstances, the change the was made to the configuration
This log is accessible through Admin -> Admin Audit Log.
Form Designer

The form designer has undergone a number of formatting changes including the removal of navigation buttons and the division of field properties into 'Value' & 'Formatting' tabs. The formatting tab now includes a 'Block Letters' option to accommodate specific letter spacing in forms. Additionally, moving a field can still be achieved through the arrow keys or drag and drop
Question Blocks in Forms

Maximum and minimum question block quantities for a form can now be selected from the form types screen. This is useful when you need to have a additional pages on a form for appointments with a large number of blocks.
For example, you may have a CLU data summary form which can accommodate 20 CLU areas on page 1 and another 20 on page 2. If you have an appointment with less than 20 areas then you do not want the second page of the form however if you have an appointment with more than 20 areas (but less than 40) then you do want the second page in the form. In the example, you would need to set up 2 forms (the same). On the first form you can set the Minimum blocks to 0 and Maximum blocks to 20 and on the second for you can set the Minimum blocks to 21 and the Maximum blocks to 40.
Map Loading Speeds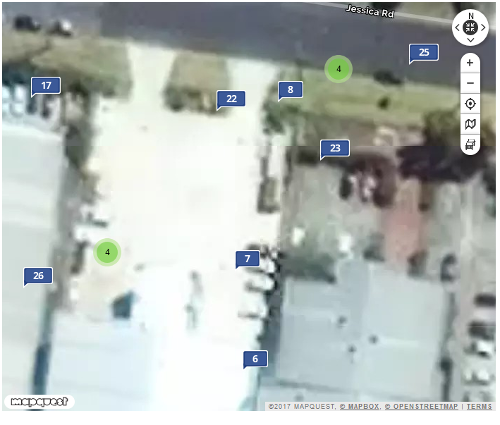 The 'Show Locations on Map' in the Job Files tab and the 'Show Directions' on The Scheduler have been updated to provider a quicker load time.
Card Transactions
The credit card payment section for Job Transactions has undergone an interface change. The payment screen now displays credit card information in an easily interpretable manner including information from details entered, such as card type.
Job Files

The job files screen now includes an option to preview PDF's in ASAP rather than downloading. In addition, the file download links have been moved to the left and the view button replaced by simply clicking on the row (Note, this now applies to PDF's also.) Finally, the file upload widget on the Job Files screen has undergone an upgrade to accommodate newer browsers meaning that Microsoft Silverlight is no longer required.
Invoicing and Submissions
'Invoicing' and 'Submission Batch Generation' have been separated into individual screens found under 'Tasks' -> 'Invoices' and 'Datafile and Submissions'.
Submission Datafiles

Datafile submissions have been completely decoupled from invoice weeks. Submission batches can now be produced for custom periods and datafiles can be downloaded and viewed using the completed date or scheduled date of the appointment.
Invoicing
The interface for moving appointments between invoice weeks for invoicing has been improved and is now more responsive when dealing with large numbers of appointments. Additional filters are also available in the column headers to make finding appointments easier.
Addresses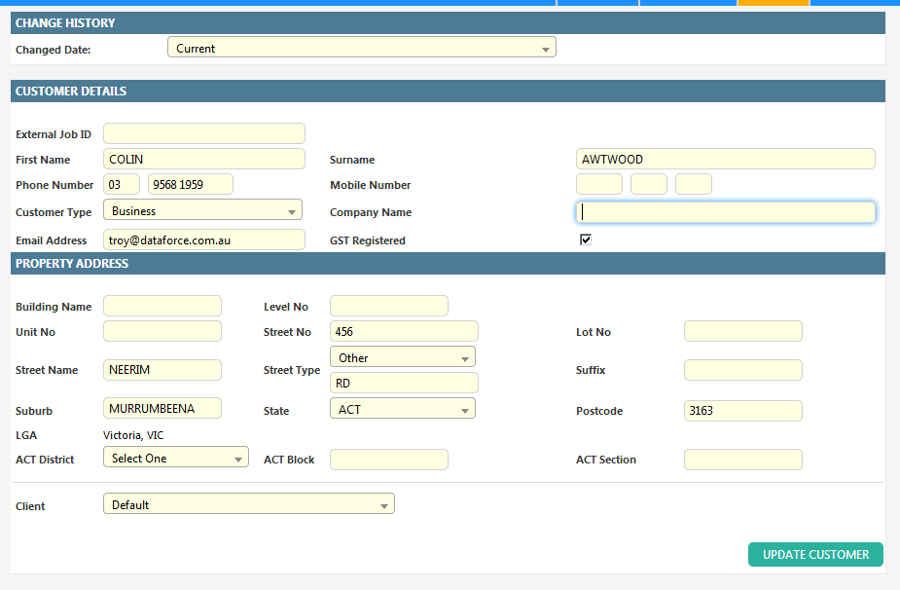 A 'Level No.' field is now available for all addresses. Additionally, ACT addresses have multiple new fields including: District, Block and Section.