Decommissioning is a system that manages the recycling and decommissioning of products. The system includes a product type, 'Decommissioned Product' that carries an associated weight used for tracking and calculations throughout the system.

Decommissioning is comprised of three primary screens located in Tasks -> Decommissioning & Recycling.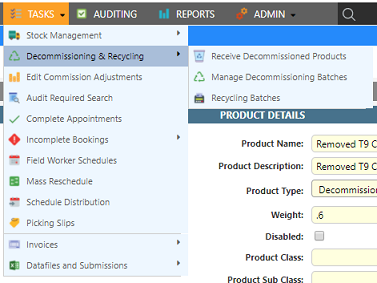 These screens roughly represent the workflow of decommissioning in ASAP.
Decommissioned products from appointments are collated into batches through the 'Receive Decommissioned Products' screen
Decommissioned batches are then combined into recycling batches through the 'Manage Decommissioning Batches' screen
Recycling batches can then be managed and modified through the 'Recycling Batches' screen