Important: Before you can use Dataforce ASAP, you must have an active subscription
If your company does not have an active subscription, then you will first need to Contact Dataforce Services to arrange this.
Getting access to the system
After setting up a new instance of the system, Dataforce will provide an administrator account to a user within your business. This account can be used to create further user accounts.
For details on setting up new user accounts please refer to Managing Users
Client code
A client code is a unique code assigned to your company.
If you do not know your client code, please ask your administrator.
Logging In
To login to the system, enter the following address into your preferred internet browser application:
https://asap.dataforce.com.au/asap
You will be presented with a screen asking for your client code.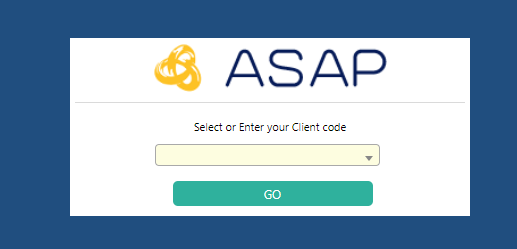 The client code can either be selected from the dropdown list or, if the list is empty, then you will need to enter your client code into the box by clicking on the box, entering in the client code and then pressing enter on your keyboard.
Tip: The client code will be automatically remembered for subsequent log-ins from the same location
After entering the client code and clicking on Go, you can now enter the username and password provided to you by your administrator.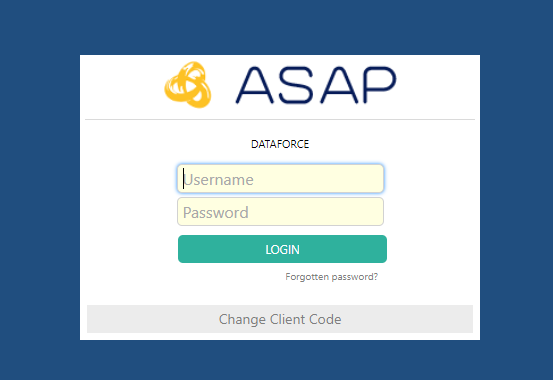 Resetting your password
Warning: If you enter an incorrect password three times then your account will be locked
If you forget your password or your account is locked, you can use the Forgot password? link under the login button to reset your password.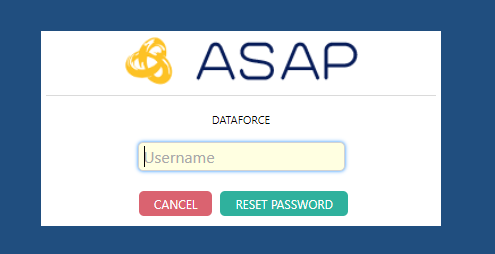 Enter your username into the username field and click on the Reset Password button. An email will be sent to you containing a link to reset your password.

After clicking on the link in the email, you will receive another email with your new temporary password.

Use this password to login after which you be asked to set a new password, enter the temporary password into old password field.
Open a Program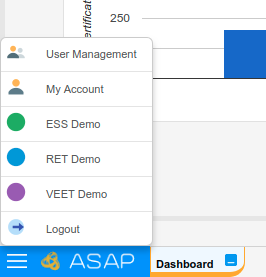 After a successful login, the screen will be redirected to the dashboard. To open a program, left click on the "ASAP" button at the bottom left of the screen. A menu will list programs that your account has been granted access to.
If there are no programs present, please contact your Dataforce ASAP administrator and request access.
If you're successful, a new tab will open. You can open multiple tabs by repeating the above steps.
---
Where to Next?