Overview
Once created, an appointment can either be placed in a waiting list or scheduled to a field worker.
In ASAP, there are multiple tools available to facilitate the scheduling process:
Once a fieldworker has appointments assigned to them, they can view and complete them from a mobile device using the Android application, Runabout. Alternatively, ASAP operators can view and distribute fieldworker schedules through:
---
Auto Scheduler
Auto scheduling circumvents any manual operator processes by utilising selected answers from a parent appointment or job.
These questions, configured under the scheduling tab on the appointment's work type allow field workers or ASAP operators to schedule an appointment without a manual scheduling process.
---
Smart Scheduler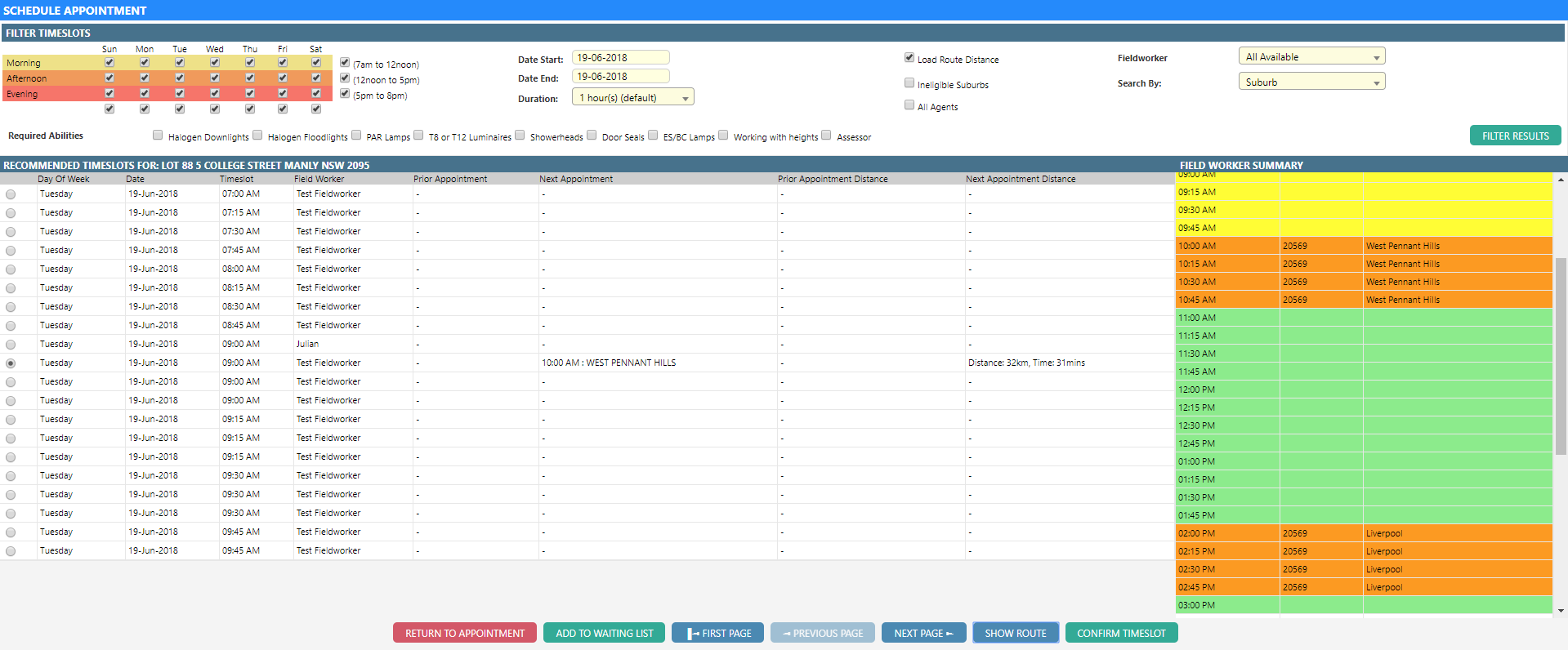 To schedule/reschedule an appointment using the smart scheduler:
To return an appointment to the waiting list (i.e. un-schedule an appointment), select 'Add to waiting list'
To filter recommended time-slots:

Limit the time-slots available for each day of the week by selecting each daily time period at the top left
Limit the date range by selecting a start and end date
Limit field workers by:

Selecting required abilities
Selecting 'ineligible suburbs' (overrides field worker suburb availability)
Selecting 'all agents' (displays field workers whose agent differ from the job's agent)
Manually specifying a field worker through the drop down field worker list

Alter time-slot size (appointment duration) by selecting a preset option from the duration drop down list
Deselecting 'Load Route Distance' to prevent the smart scheduler from testing distance between appointments

Select 'Filter Result'
Select a time-slot

Once selected the fieldworker's daily schedule will appear on the right side of the screen (yellow = current appointment, orange = filled time-slots, green = available)
To view the field workers daily route, select 'Show Route'

Select 'Confirm Time-slot'
---
Manual Scheduler
The manual scheduler provides a method for modifying an appointment's:
Scheduled date / time
Field worker
Work type
To update an appointment using the manual scheduler:
Select the actions tab on the appointment toolbar (grey)

If required, select Change Work Type and then select the work type from the drop down list

Select Change field worker (even if field worker is not changing) and then select the required field worker from the list

Add a comment
(optional) Add any necessary job instructions
Select 'Confirm Reschedule'
---
Mass Schedule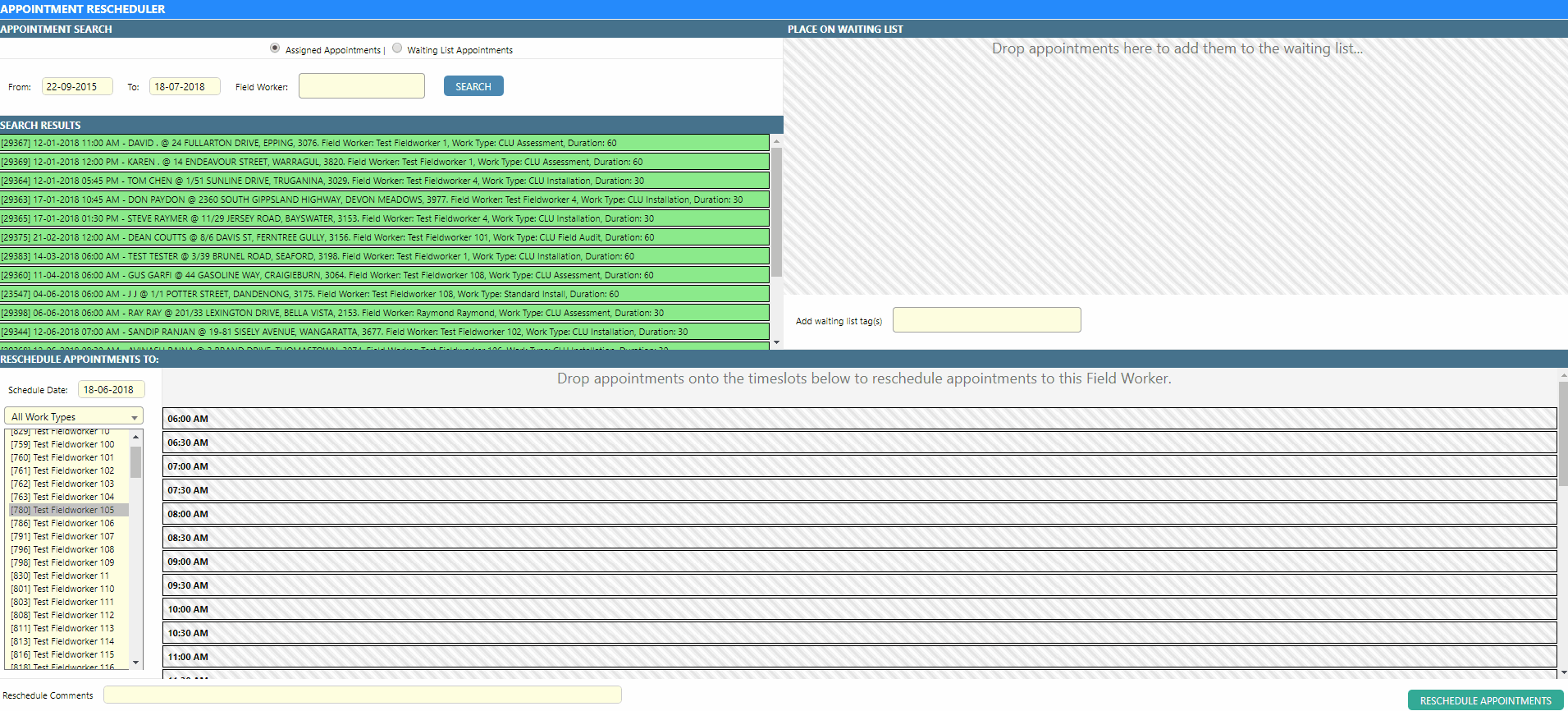 The mass scheduler provides a method for scheduling or adding multiple appointments to the waiting list using a drag and drop interface.
To schedule / add appointments to the waiting list using the mass rescheduler:
Build a list of required appointment using the filters in the top left box, these appointments can either be currently scheduled (rescheduling) or on the waiting list
To add an appointment to the waiting list, drag the appointment from the assigned appointments list into the waiting list box (top right)
To schedule / re-schedule an appointment, select the required fieldworker from the list in rescheduling node (bottom). Drag the appointment from the assigned or waiting appointment list onto the fieldworkers schedule over the required time-slot
Enter a comment in the reschedule comment section (this comment will apply to any altered appointments)
Select 'Reschedule Appointments'
---
Schedules

ASAP schedules provide a method of viewing all field worker schedules over a 10 day period. This schedule view can be used to view and distribute a field worker's daily mapped itinerary as well as providing a general summary for each appointment within the schedule.
To view a field worker schedule using this method:
Fill any required filters
Select 'Show Schedule'
To view a field workers daily itinerary, select the itinerary icon (street sign) on the required day.
To view a more detailed summary of an appointment, simply hover the mouse over the appointments time-slot
---
Field Worker Schedules

To both view and download (Excel/CSV) individual field workers schedules, including detailed appointment information, use the field worker schedule screen.
To utilise this feature:
Select the required field worker, days, date type and start date
Select Download (Excel/CSV), Show or Print Schedule
---
Schedule Distribution

Schedule distribution provides a method for sending a schedule to a group of fieldworkers.
To distribute a set of schedules:
Add any necessary filters to build the schedule and restrict the fieldworker list
Select 'Search'
Select all field workers that should receive their schedule
Select 'Send Schedule for Selected'