Note: The following diagram display the flow of products in ASAP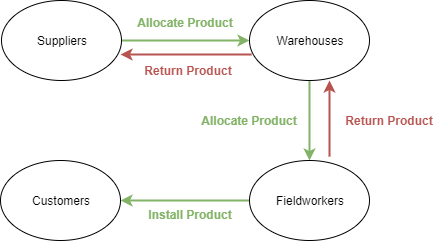 Instruction
Refer to Product Allocation from supplier to warehouse for a step-by-step guide to allocate product to warehouse

Refer to Product Allocation from warehouse to fieldworker for a step-by-step guide to allocate product to fieldworker
---
Product Allocation from supplier to warehouse
Note:
We assume that you have added a supplier and a warehouse into ASAP. Please refer to
Stock Tracking
if you haven't added any yet
Select the supplier that will supply the product

Select the warehouse that will receive the product

Select "Allocate" if the product will be allocated to warehouse or select "Return" if the product will be returned back from warehouse to supplier

There are two ways of selecting product:

Manually by clicking the product in the provided field.
Using the barcode feature.
Ensure that the product's barcode has been configured in the product details screen before using the barcode feature. Refer to Product Configuration to find out how the product barcode can be configured in ASAP

(Optional) Repeat step 4 to 5 if there are more than one product allocation

(Optional) Click Print if an invoice or slip is required

Click Submit
---
Product Allocation from warehouse to fieldworker
Note: We assume that you have allocated at least one product into your warehouse.
Select the fieldworker

Select the warehouse that supply the product to the fieldworker

Select "Allocate" if the product will be allocated to fieldworker or select "Return" if the product will be returned back from fieldworker to warehouse

There are two ways of selecting product:

Manually by selecting the product in the provided field.
Using the barcode feature.
Ensure that the product's barcode has been configured in the product details screen before using the barcode feature.
Refer to Product Configuration to find out how the product barcode can be configured in ASAP

(Optional) Repeat step 4 to 5 if there are more than one product allocation

(Optional) Click Print if an invoice or slip is required

Click Submit